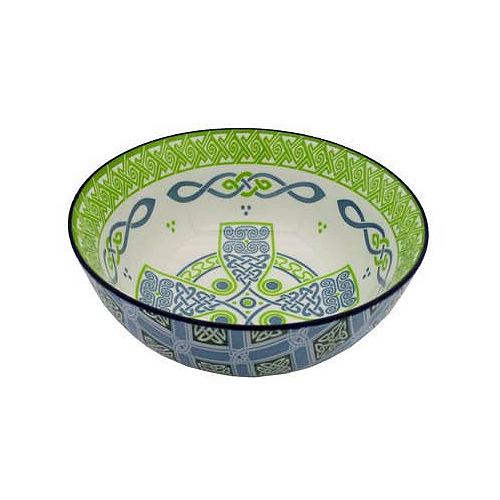 China Bowl
The Clara Collection from Royal Tara offers pretty and functional pieces of Celtic designed bone china. The bright colors are vibrant and make for wonderful decor. They are microwave and dishwasher safe which is a fantastic bonus!
Celtic Cross Information: 
High Crosses can reach heights of four meters and the classic ring at the top is said to be a symbol of eternity. Dating from the 9th century, Celtic crosses are usually carved of sandstone or granite and indicate a holy place.
Trellis Shamrock Information:
The famous Irish three leafed Shamrock was used by St. Patrick to explain the Holy Trinity when he brought Christianity to Ireland in the 5th Century A.D. Ever since, March 17th is celebrated as St. Patrick's day.
Cead Mile Failte Information: 
'Cead Mile Failte' translates from Irish as 'one hundred, thousand welcomes', the traditional greeting of Ireland. 
Claddagh Ring Information:

The Claddagh Ring, symbolizing love, friendship, and loyalty, was first used as a wedding ring over 400 years ago in the tiny fishing village 'The Claddagh' in Galway city, Ireland.
Irish Harp Information: 
The Irish Harp, dating back to the 12th century, and made famous by bands such as Turlough O'Carolan, the blind harpist and composer, was adopted by Ireland as its national symbol.
Material - Fine Bone China
Measurement - 11cm