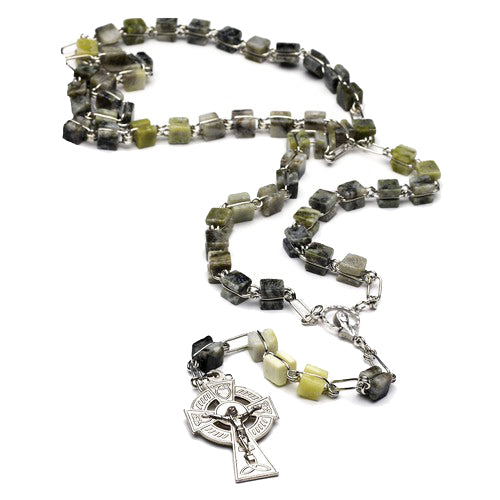 Connemara Marble Rosary
Pray for the intercession of the Blessed Mother Mary with this beautiful rosary made of Connemara marble. This rosary perfectly encapsulates the natural and historic beauty of the stones with the spiritual peacefulness of the Catholic faith. It features gorgeous shades of Connemara green in the beads and a shining silver tone over brass crucifix. It makes a beautiful gift for yourself or one who is devout to the faith.
Each bead on this rosary is made from genuine Connemara Marble which is found only in the Connemara Mountains in the West of Ireland. It dates back 900 million years to the pre-Cambrian period.
Full bead rosary
Made of real Connemara marble
Includes gift box and info card
Material - Connemara Marble
Metal - Silver tone over brass
Size - 25" long, beads 6mm x 8mm, Crucifix 50mm x 30mm