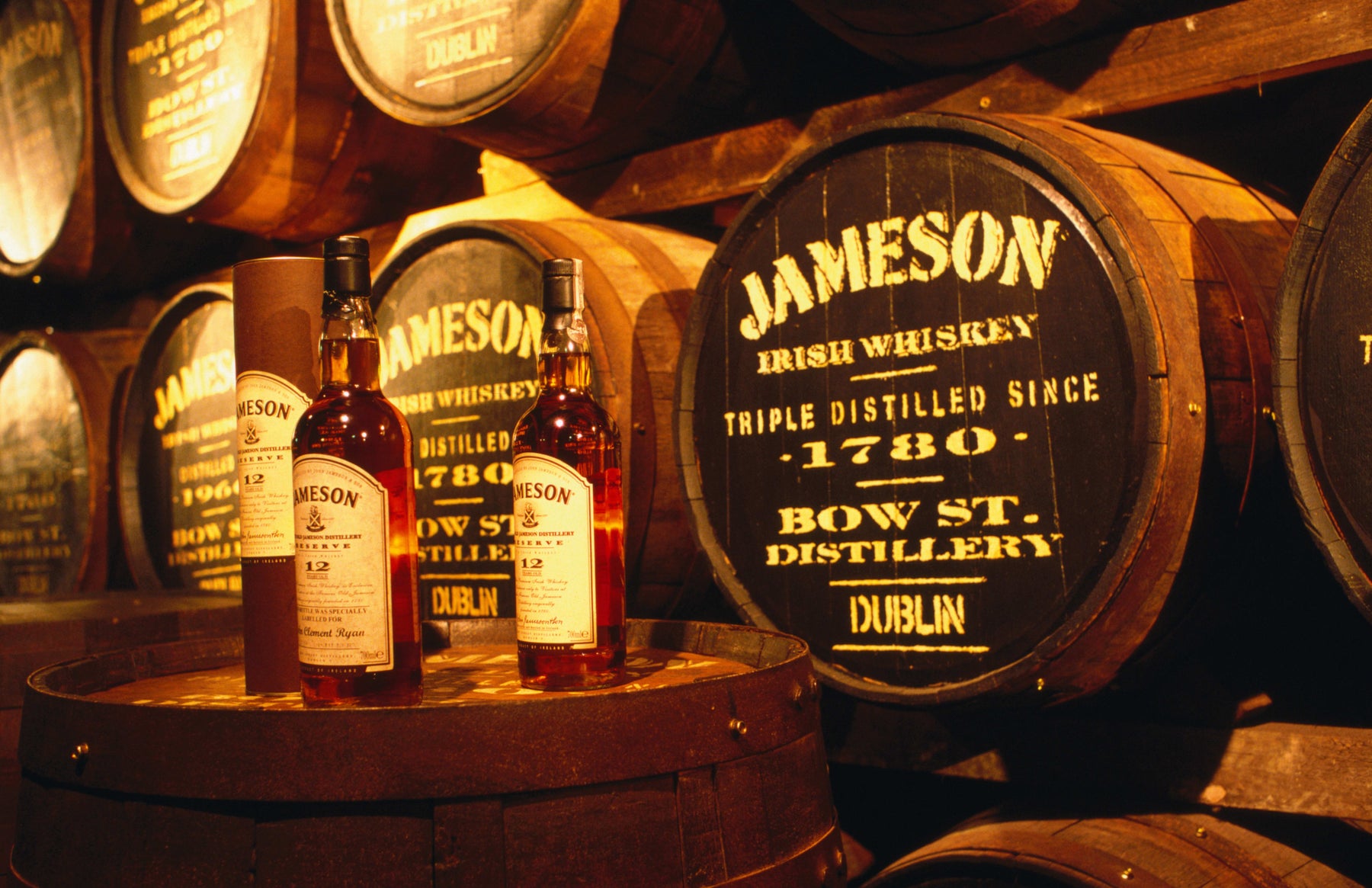 Irish Whiskey Journey
Whiskey or Whisky?
Ireland claims the origin of whiskey-making, crediting the peregrinating monks with observing Arab alchemists then bringing back those timeless brass stills and experimenting with the grains at hand. Of course, there was plenty of pure, fresh water. From the tip of Ulster to the western isles of Scotland is a mere dawdle. And so the brewer's skill traveled north. To be fair, the Scots also claim to be first, also crediting the religious classes for bringing distilling skills from Europe. In Scotland, the first evidence of whisky production is recorded in the Exchequer Rolls for 1494 where malt is sent "To Friar John Cor, by order of the king, to make aquavitae" (an archaic name for a concentrated aqueous solution of ethanol.), enough to make about 500 bottles. A drink to your health, Friar John, with or without the "e!"
Irish Whiskey and American Prohibition
We understand that England's Queen Elizabeth I was quite fond of the "usisge beatha" (Gaelic/Irish for water of life) and was among few monarchs who treated the Irish distillers will some respect. Those who followed became more interested in the whiskey tax, which only served to drive its production underground. But everything changed when John Jameson relocated (from Scotland, mind you!) to manage the distillery that belonged to his wife's family in Dublin's Bow Street in 1786. In 1805, he bought it outright, and five years later, founded the John Jameson and Son Irish Whiskey Co. This triple-distilled nectar quickly grew to be number one in the world! Sadly, Irish independence in the early 20th century resulted in severe embargoes imposed by Britain. And by the time that cleared up, American Prohibition was in full force. Bootleg liquor was often incorrectly labeled "Irish Whiskey." It took the industry decades to overcome the stigma. For a time, it was the hotter, peatier-tasting Scotch that claimed worldwide admiration. 
There and Back Again
By 1966, three surviving independent Irish distillers combined forces to reverse the decline in Irish whiskey's fortunes. They became the Irish Distillers Group; Cork Distilleries Company, John Jameson & Son and John Power & Son. In 1972, Bushmills joined. By 1995, Jameson topped 9 million bottles sold to once again be the best-selling and the biggest name in Irish whiskey. While Jameson conquered the world, Powers was more popular at home. Powers was the first to bottle their brew for sale. (much handier than selling it from the cask) They also developed the mini-bottles (Baby Powers), which every distiller has adopted to the present.
Top of the Whiskey Heap
So what, you may ask, is the most popular version of the beautiful, smooth, mellow sweetness to be sold out of our very own Whiskey Snug? Pecan Praline Whisky is a perennial favorite. Rich with pecan and oak flavors, this Canadian Whisky is aged in American Oak Bourbon Barrels. It's a great shot and makes a wonderful cocktail. Enjoy a glass of "pecan pie" mixing it with Brown Sugar Bourbon and Five Farms Irish Cream. And speaking of Thanksgiving, it makes a fabulous marinade for the holiday ham, too! Brand new this month, we offer you Huling Station Straight Bourbon by Old Dominick distillery in Memphis. The creative legacy of usisge beatha lives on in these North American spirits. Stop in and enjoy a wee dram!
Lori McAlister
Wrangler of Cultural Affairs
The Celtic Ranch | 404 Main Street | Weston, MO 64098
www.CelticRanch.com | Home of The Whiskey Snug