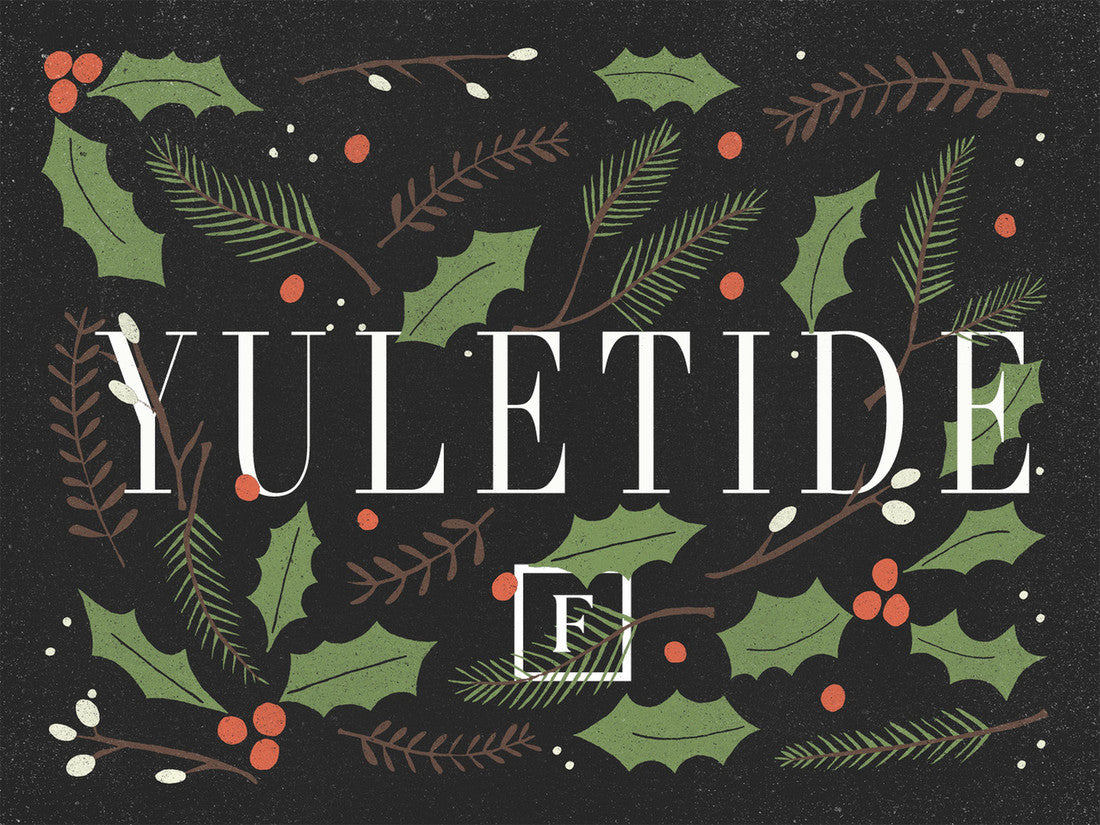 Yuletide – Yee Haw!
"See the blazing Yule before us… Troll the ancient Yuletide carol… While I tell of Yuletide treasure…fa la la la la, la la la la!"
These recognizable phrases come from "Deck the Halls," a Welsh New Year Carol called "Nos Galan" (winter night or New Year Eve). Scholars don't agree on the precise meaning of the word "Yule." Some think it is an early Germanic for "wheel," referring to the turning of the year or perhaps "feast" as it was time for slaughtering animals that couldn't be overwintered. Yule was most certainly brought to England and Scotland by invading Danes in the ninth and tenth centuries. By the 11th century, it was simply another word for Christmastime across Britain. The Swedish expression for "Merry Christmas" is "God Jul," remarkably similar to "Good Yule." Ah, those jolly Vikings... "Here we come a pillaging among the leaves so green…"
The Yule Log came to have significant meaning, its laying attended by strict ceremony and its ashes held to possess miraculous powers of healing, protection, and fertility. Many continental cultures share a similar custom, but it was poet Robert Herrick who first records it in 17th-century England in "The Yule Log"
Come, bring with a noise,
The Christmas log to the firing;
While my good dame, she
Bids ye all be free,
And drink to your heart's desiring.
With the last year's brand
Light the new block, and
For good success in his spending,
On your Psaltries play,
That sweet luck may
Come while the log is a-tinding.
Wash your hands, or else the fire
Will not tind to your desire;
Unwashed hands, ye maidens, know,
Dead the fire, though ye blow.
Just getting the log home was a high-spirited event. Often, the youngest member of the hunting party would sit astride the prize as the rest of the men dragged it along. In Scotland, it was the male head of household that selected a thick branch or substantial stump – oak if possible – to bring to the house on Christmas Eve. He would carve it into the shape of the Cailleach (KAHL'lee-ak) "Old Woman" or "Grandmother." She represents the spirit of winter – cold – death. Throwing "her" into the fire gave the family satisfaction to watch the darkness reduced to ash. Observing this custom ensured that death would not visit the house in the New Year.
Having fire, light and warmth for your home was a matter of life and death. It represented wise planning, it rewarded your hard work and it was key to offering hospitality. In Ireland, a candle was left burning all night in at least one window of the house, ostensibly to help Mary and Joseph find their way on Christmas Eve. Often, the door to the house was left unlocked and a table set for three people "to have a proper welcome for the Travellers to Bethlehem." A dish of water was left on the window ledge to be blessed by these travelers and then kept for curative purposes.
Many people still remember the importance of giving your house and farmyard a deep cleaning as part of Yuletide preparations. Everyone got involved with the men clearing all of the outbuildings inside and out, sometimes applying a fresh coat of white-wash. The women were sweeping, washing and scouring until every surface shining. Then and only then could the decorating begin. But this wasn't just any cleanup; it put into physical action the interior work of preparing hearts and minds for the hope of the celebration to come.
Add a breath of fresh air to your home as you prepare for family, feasting, and festivity. The Celtic Ranch has a fine selection of Inis products with its signature light, fresh unisex scent. Coordinate fragrance and lotions for you with diffusers for your rooms. Choose from a variety of long-lasting diffuser scents by Brooke & Shoals including Cinnamon & Cedar or Frosted Ginger & Winter Berries for the season. And from their award-winning collection, you'll be recalling Glendalough, Skelligs, Cliffs of Mohr and the Wild Atlantic Way. While you're cleaning and sprucing up your space, add those just-right sensory touches to please both sight and smell. Happy Yule, y'all!