CELTIC COUTURE FASHION SHOW
Enjoy a live show featuring our new men's and women's fall collection.
Thursday, September 21
Show starts at 7 PM. Doors open at 6:15 PM.
You won't want to miss this...
Join us for an exciting night of Celtic Couture
See the brand new looks we are featuring this season. Our men's and women's styles are a must-have for this fall!
Shop in store after the show and enjoy 10% off your purchase. Walk away with a new wardrobe just in time for the new season!
Your ticket is your entry to win a $250 shopping spree at The Celtic Ranch! A winner will be announced after the show.
Enjoy a delectable appetizer and purchase specialty cocktails for the show.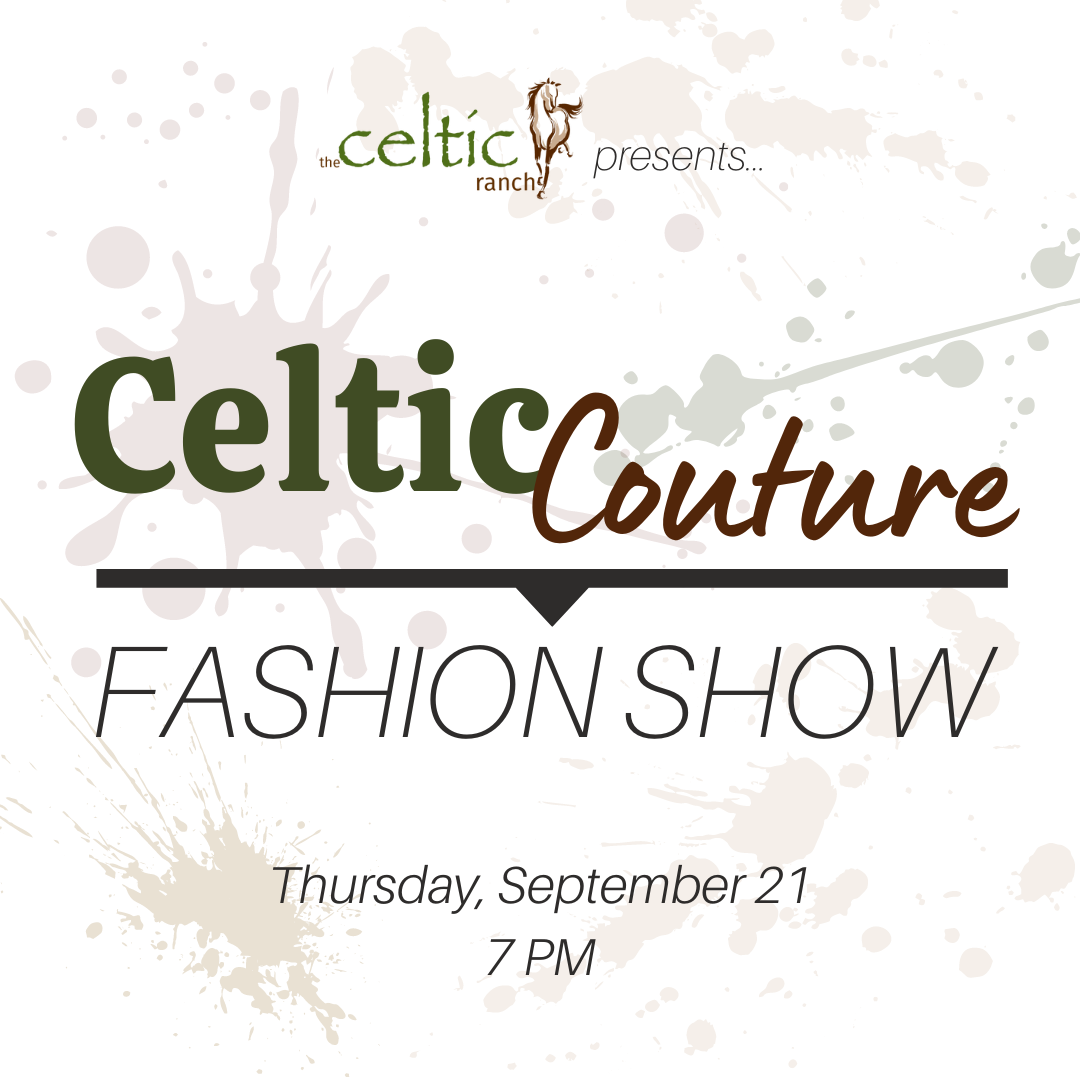 Celtic Couture Fall Fashion Show 2023
You're invited to the Celtic Couture Fall Fashion Show! Your $10 ticket includes in-house view of the show, a delectable appetizer menu, seasonal cocktails for purchase, in-store discounts, and a chance to win a $250 shopping spree! View product for more information.
West End Knitwear
"West End Knitwear is conscious of its roots in the past; however, the company has its eyes firmly focused on the future. From it's situation in the west end of Europe it takes pride in being the first company to manufacture garments which were originally designed for those engaged in a rugged, outdoor life. Some of these garments have been adapted for modern worldwide markets and are worn by men and women with pride and pleasure."
Aran Woollen Mills
"Aran Woollen Mills, Ireland's largest home based knitwear manufacturer, offers the very best in both traditional and contemporary Irish knitwear. Founded in 1965 this family owned and managed business is delighted to present a most comprehensive collection of men's, ladies, children's knitwear and related product including homewares and accessories."
Jack Murphy
"Designed in Ireland and inspired by our landscape and weather in both the design and functionality of each garment. Our collections are classically tailored, renowned for quality and reliability, favouring style over fashion ... We want you to feel good about yourself and the clothes on your back, giving you the confidence of looking and feeling good when wearing Jack Murphy."
Snow Paw & Islander®
"Heritage fashion with a modern twist." Discover the beautifull collection of bags, purses, and accessories featuring the iconic and popular Harris Tweed® styles
Questions? We're here to answer them. h3>
Will the show be livestreamed?
Currently, the show is set to be in-house only.
Tickets are $10. Your ticket includes an appetizer menu and cocktails for purchase (21+), a 10% off in-store purchase, and your entry for a chance to win a $250 shopping spree. Tickets can be purchased in store, online, and at the door the night of the event.
How many tickets can I buy?
You can buy as many tickets as you want for your party. All attendees must be 18 years or older.
When will the shopping spree winner be announced?
A winner will be chosen at random after the show and will be contacted directly from Celtic Ranch.
What time does the show start?
The fashion show begins at 7:00 PM CST. Doors open at 6:15 PM for attendees.
Can I shop after the show?
You can shop around once the show ends and enjoy a 10% off discount that night only. If an item you would like is unavailable, we can special order it for you.
Can I model for the show?
Thanks for your interest! You can sign up to model for the show in store or by filling out our online form
here
. Our store manager will contact you directly.
We can't wait to see you!
For updates on the fashion show and all things Celtic Ranch, follow us on our Facebook page.