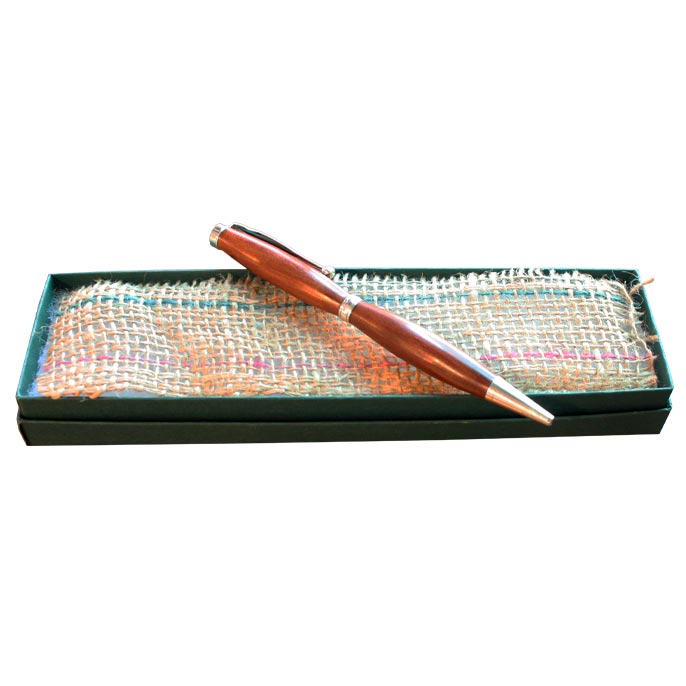 Authentic Handcrafted Wood Writing Pens
Handcrafted Wood Writing Pens
Wooden pens handcrafted by Eamon Spillane for The Celtic Ranch. Eamon salvages trees in Ireland to create these special pens. We are pleased that these Irish trees have found new life in beautiful wooden writing pens, and each one makes a lovely and unusual gift. Perfect for signing the wedding register, and also makes a very nice men's gift, business gift, teacher gift, or gift for a writer.
Bog Oak Writing Pen
The Bog Oak pens are made from Bog Oak taken from a bog in Kilteevan, Co. Roscommon, Ireland during turf cutting operations. The tree is over 3,000 years old. Any slight imperfections to these Irish bog oak pens are due to the nature and texture of the wood.
Irish Cherry Writing Pen
The Irish Cherry pens are made from an Irish cherry tree that was cut in Co. Roscommon, Ireland for safety reasons, as it was overhanging the road. Eamon salvaged the tree in 2006.
Yew Writing Pen
The Yew pens are made from an Irish yew tree taken from church grounds in Knockcroghery, Co. Roscommon, Ireland, and were salvaged by Eamon in 2003.