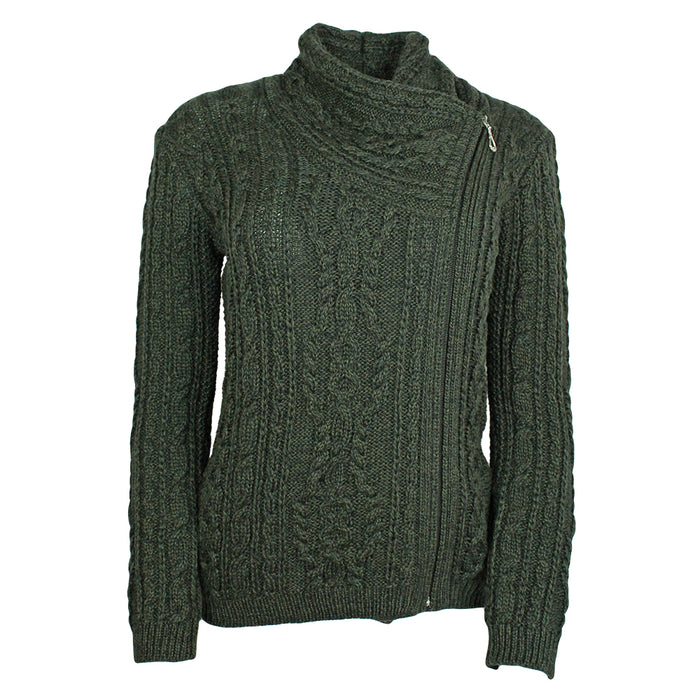 Aran Sweater Jacket
The Original Aran Company has been producing high quality knitwear for the past 35 years. With their collection of soft merino wool and wool cashmere garments, you'll never have to compromise style with comfort ever again! Original Aran Co. stick to the classic Irish, traditional culture which you will surely appreciate and enjoy for years to come. 
Their variety of stitches represent fishing, farming, prosperity, and classic Irish lifestyle. These intricate styles are a wonderful conversation starter and will grab anybody's attention! The soft wool and other natural fibers in this knitted wool biker jacket make for wonderful outerwear to keep you warm and comfortable all day long. Their collection of different colors are rich and striking. 
Available in 3 colors
Authentically made in Ireland
Intricate knitting technique and stylish finish
Unique size full zip
Features Claddagh on the zipper (except for the Black Marl)
Material - 100% New Merino Wool
Care Instructions
We recommend all our wool sweaters and other wool garments are gently hand washed with a mild wool detergent, reshaped by hand and dried flat. If soaked for too long wool may shrink and become hard. Alternatively, wool sweaters can be dry cleaned BUT always check the care label first. Under no circumstances should you machine wash or tumble dry your wool sweater or any other wool products. With great care your sweater will last you for a long time.