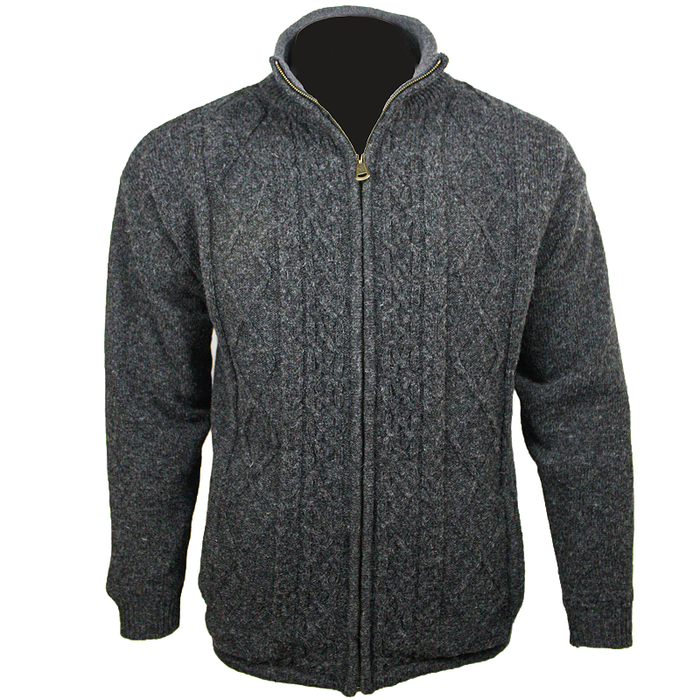 Full Zip Pure New Wool Sweater Jacket
Full Zip Wool Sweater
This men's full zip Irish wool sweater is fully lined with cotton throughout the body and fleece at the neck for both warmth and ultimate comfort. Two outer pockets and one inner pocket. In both charcoal grey and cedar green this classic zippered sweater jacket is a best seller year after year. Made by Aran Woollen Mills this is a sweater men love. Tried and true!
This lightweight and versatile men's full zip sweater jacket is lined with pockets
Expertly crafted in Ireland by Aran Wollen Mills (Carraig Donn) 
Made from 100% pure new wool and lined with cotton, fleece lined by the neck for both warmth and comfort. 
2 outer pockets and 1 inner pocket
Material - 100% Pure New Wool. Lined with Cotton, Fleece lined at the neck.
Care Instructions
While merino wool sweaters are a great choice for their warmth and durability, proper care needs to be taken to protect your wool sweater. All sweaters and wool garments should be gently hand washed with a mild wool detergent. They should then be reshaped by hand and dried flat. If soaked for too long, the wool may shrink and become hard. Alternatively, sweaters can be dry cleaned but always check the label first. You should NEVER machine wash or tumble dry your sweater or any other wool products.