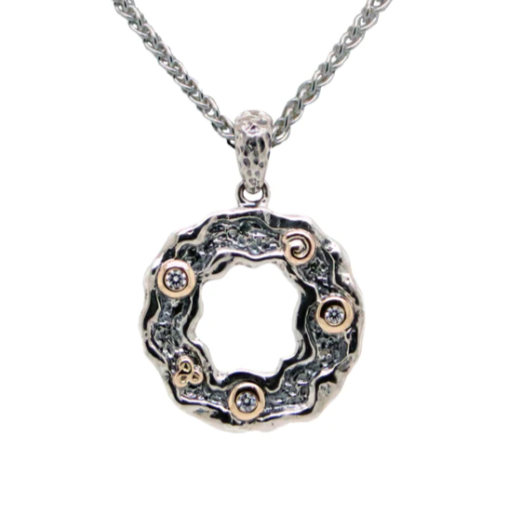 Sterling Silver Oxidized 10k Yellow Gold CZ Rocks 'n Rivers Pendant
Sterling Silver Rocks n' Rivers Pendant with CZ
The powerful force of a river is a perfect analogy for our lives as we carve our path through, over and around the various obstacles on our journey.  This new collection from Keith Jack is a reminder to celebrate milestones, these foundational rocks in the river of our lives, with passion, joy and purpose.  This pendant featuring a natural look with small CZ stones "floating" through the circle is a perfect and beautiful reminder to go with the flow of life.

Inspired by the Celtic Tradition

Gift box and story card included

Includes light Spiga style chain
Material - Sterling Silver, Cubic Zirconia
Dimensions - 7/8" x 1 1/4"