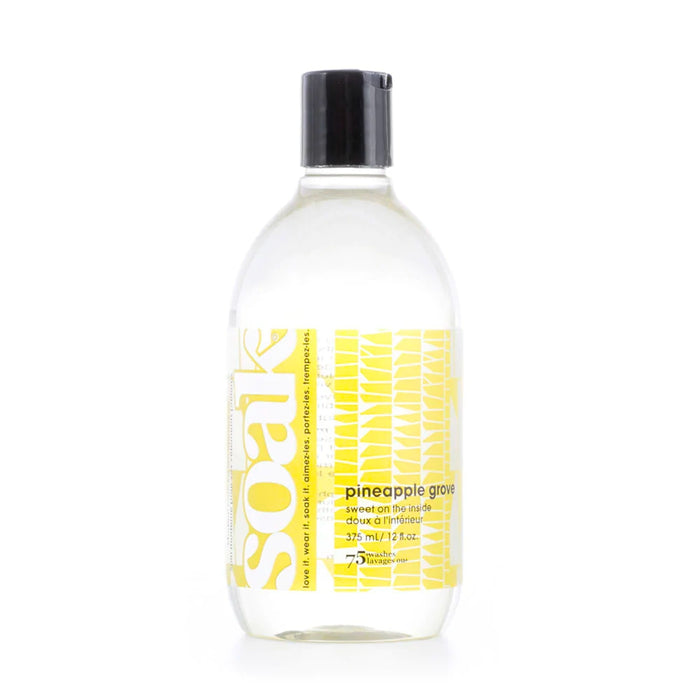 Soak Full Size Bottle (375ml)
Soak Wash Laundry Products
Keep your delicately knitted, handwoven, and wool-y warm sweaters clean, fresh, and smelling great with Soak Wash! Made with eco-friendly ingredients and available in a wide variety of lovely scents, safely wash your sweaters with this easy no-rise product.
Scents:
Pineapple Grove - Be a pineapple. Stand Tall, wearing a lily filled crown, and always be sweet on the inside.
Celebration - Inspired by the essence of Red Tea. Sweet, delicate and absolutely delicious, this perennial favorite smells like good, clean fun.
Lacey - Lacey combines spring blossoms with sweet bergamot creating a light yet alluring fragrance.
Fig - Fresh-picked clean. Fig is ripened with sweet fig and lychee and crowned by dandelions.
Scentless - For your sensitive side. Scentless keeps your hand-washables (and sensitive skin) clean and fragrance-free.
Yuzu - Clean with a peel. Pucker up and give your laundry some love with a kiss of tart citrus + crushed eucalyptus.
How it works:
Soak and squeeze. No need to rinse. Lay knits flat to dry. Wash sets (like wool sweaters) together. Test fabric for color-fastness.
Available in multiple scents and scentless
Made with plant derived and renewable ingredients
Biodegradable, phosphate-free, dye-free, sulphate-free
Safe for hand or machine washing (including HE)
Capacity - 375 ml